Joseph Wainaina fled from Eldoret in 1992, when his house was burnt to the ground in ethnic clashes. Some years later, whilst researching where to buy weapons to take revenge, a friend challenged him with the line 'forgive those who sin against us'. Wainaina was overcome by a spirit of forgiveness. Since then he has been working with Initiatives of Change for reconciliation between Kenya's different ethnic groups.
Last May, Wainaina coordinated a Peace Caravan that toured Eldoret in a celebration of peaceful, free and fair national elections. As a follow-up, he organized a weekend retreat, for youth and elders from Eldoret's main ethnic groups, which took place earlier this month.
People covered their own expenses to attend - walking long distances, travelling by 'matatu' (public minibus).  They slept on mattresses in a school classroom and made lunch in cauldrons on traditional cooking fires.  They met in a church and outside, under trees.  One of the coordinators, Chief Chrisostom Maiyo brought fresh milk from his farm.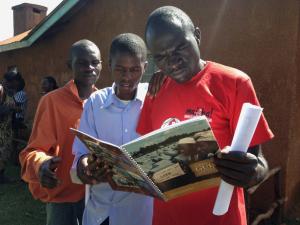 Dr Alan Channer, Director of a United States Institute of Peace project 'to transfer the methodologies of the film An African Answer across Kenya' and Gunilla Hamne, trauma counsellor, trainer and founder of the Peaceful Heart Network were invited to contribute.
Kenyan lawyer and civil society activist Joseph Karanja opened the meeting with an introduction to the principles of Initiatives of Change. He shared his first experience of listening in quiet to the inner voice of conscience - and how that led to a resolution of a dispute in his school.
Gunilla Hamne then explained the value of resolving inner injuries.
The group shared different experiences of trauma:

- 'I hear my neighbour screaming at night'. 
- 'My children can wake up in the middle of the night and rush out of the house. They are scared that we are going to be attacked.'
- 'I was robbed at gunpoint.'
Hamne took the group through a 'trauma tapping' exercise, which each participant then practised on their neighbour. A wave of relaxation and a deeper sense of connectedness became palpable in the group.
Dr Alan Channer then introduced the film An African Answer. 
When it ended, Wainaina called for five minutes of quiet reflection, after which people shared.
'This is the best method I have seen for resolving such conflicts,' said one young man.
Another person commented on a moment in the film when Pastor Wuye lifts up his artificial hand and says 'We cut it because we did not know how to talk.'  Although Pastor Wuye's hand was hacked off by a Muslim militiaman in communal fighting, the person observed that Wuye emphasises 'we cut it', rather than 'they cut it': it is noteworthy that Wuye includes himself in responsibility for a violent act inflicted upon him, rather than blaming his enemy.
An exchange between elders and youth followed.
The next morning, the group reflected on what they could each do in their communities.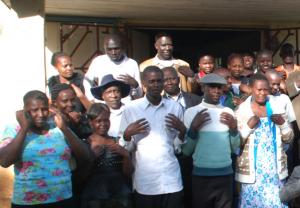 Emmily, a Kalenjin, described how she was deliberately pushed over by a Kikuyu trader in a market.  She was injured and so angry that she started shouting for the Kalenjins in the market to take revenge. Police in the vicinity fired warning shots to pre-empt a communal clash.
Emmily went on to share that when she arrived at the retreat she felt very uncomfortable that Kikuyus were present. However, she said that by the end she was seeing things very differently. The combination of the trauma tapping exercise, the film An African Answer, the sharing and the fellowship had been transforming. 'I will not think for Kalenjins only again,' she said.
After the retreat, Emmily sent a text message about the trauma tapping exercise:
'I thank you for that activity. I did it with 32 women yesterday, and that were very happy about it. Tomorrow I will do it with single mothers. For youth I will do it next week when we have a Youth Forum. Actually I also did it with a passenger who was in the same bus yesterday. I thank you so much for your concern.'
Wainaina, Chief Maiyo and their team have been invited back by the pastor of the local church to address many hundreds more people in the area.