by Imad Karam and Kees Hulsman
Read more about the work of Imam Ashafa and Pastor Wuye
Imam Mohammed Ashafa and Pastor James Wuye from Nigeria were invited to Egypt to deliver training workshops on 'Early Warning – Early Response', a technique they developed to combat and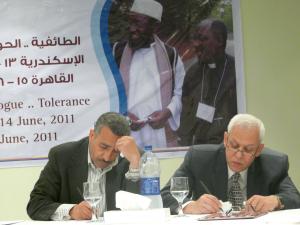 prevent communal conflict. They conducted two workshops in Cairo and Egypt's second city Alexandria. The workshops, which took place between 10 to 18 June 2011, were practical and taught participants to identify and recognise warning signs as well as providing them with the tools to respond effectively through the formation of community action groups. The workshops were attended by community and religious leaders in addition to representatives of civil society organizations.
The first workshop was organized by the Alexandria Intercultural Dialogue Committee in Alexandria with 45 participants. Revd Radi Atallah opened the workshop and stressed that 'we will be discussing Egypt, not Nigeria'. Revd Radi said
that the Bible and Qur'an encourage us to peaceful coexistence, but the problem is in meeting each other. 'We must be willing to apologize for the mistakes we make; and this is difficult in Egypt,' he said.
In Cairo, the workshop was organized by the Center for Arab-West Understanding with support from the Goethe Institute who provided the space and facilities. The workshop in Cairo attracted 40 participants.
Following each two-day workshop, participants eagerly signed up to various action groups (women/youth/political-religious) that will meet subsequently. They will then select members from these local groups to form 'hub' groups across Egypt. Imam Ashafa and Pastor James emphasised that an early warning and early response system must be a citizens' initiative.
Imam Ashafa and Pastor James provided participants with a manual based on their experiences in Nigeria and other countries where they have worked. It provides tools on the systematic collection and categorization of societal indicators in order to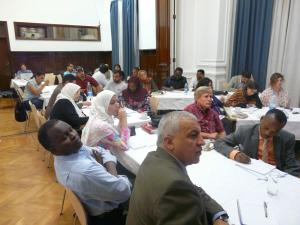 anticipate problems. The Egyptian hosts are now working on developing an Egyptian manual that fits Egyptian circumstances.
There is a great degree of uncertainty in Egypt following the January 25 revolution. The collapse of the regime of President Mubarak resulted in a temporary disappearance of police from the streets of Egypt. Violence and thuggery increased, old scores were dealt with, and tensions erupted into violence such as the attack on churches in Imbaba resulting in one church being burned, over 10 people killed and over 200 wounded.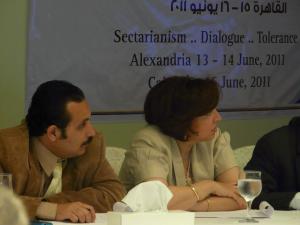 Egypt is now ruled by the Supreme Military Council and there are indications that the army has not been able to fully replace the Egyptian security. An early warning and early response structure could, given the current circumstances, greatly benefit the country. People who participated in the workshops plan to meet again in order that small groups bring the tools provided by Imam Ashafa and Pastor James into practice. The workshops were only the beginning of much work that will need to be done to reduce tensions between peoples of different beliefs in Egypt.