International intervention: the future?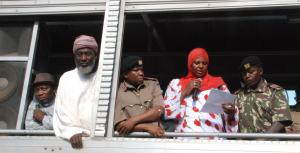 'We assume from afar and you can kill someone based on assumption. We have learned a bitter lesson.'
This line from The Imam and the Pastor film leads the report of a conference on 'International Intervention: the Future?', which took place at the Centre for International Intervention, Surrey University, on 18 and 19 July.
The conference, funded by the UK's Economic and Social Research Council, brought together academics and two representatives of NATO and the British Foreign and Commonwealth Office.
Dr Alan Channer, of FLTfilms, presented a paper on 'Documentary film as a tool for conflict transformation and peacebuilding: lessons and opportunities'. Other papers ranged from 'Russia and the Responsibility to Protect', 'Failure to win hearts and minds: the challenge of Nigeria's counter-insurgency strategy' and 'Human rights, humanitarianism and righteous war'.
The report on the conference, by Professor Sir Mike Aaronson, can be read here:
Photo by Alan Channer: Pastor James Wuye and Imam Muhammad Ashafa from Nigeria (left) support the response of security forces and civil society leaders to a terrorist incident in the Nairobi suburb of Eastleigh.