Come back home!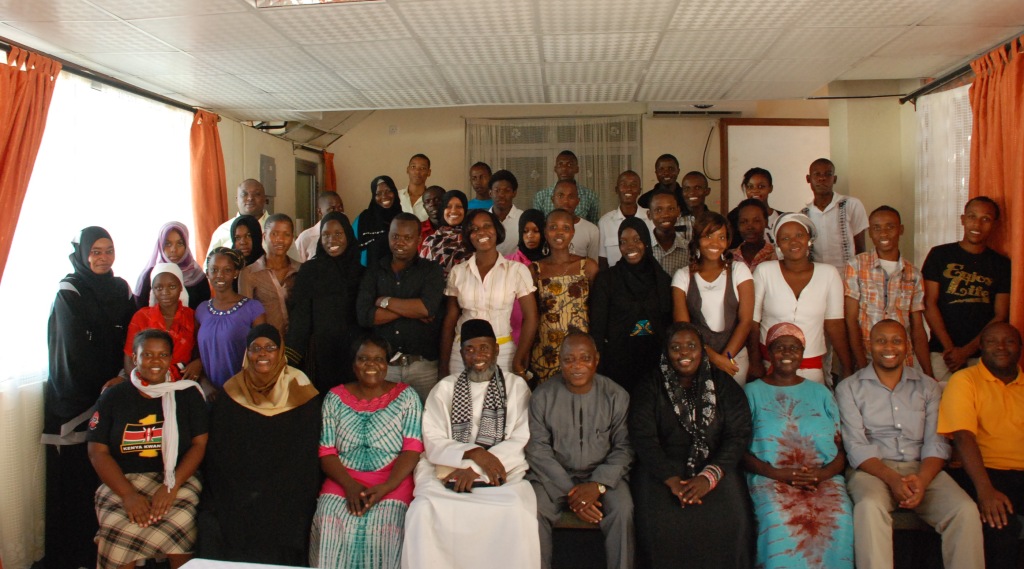 'Our youth are affected by radicalization, drug abuse, peer pressure and social media. I have been wanting to bring together Christian and Muslim youth in Mombasa for 10 years,' said Reverend Jane Jilani. 'Today it has happened.'
'Our theme is "Come Back Home!"' continued Jilani, an initiator of Kenya's Coast Interfaith Council of Clergy. 'We are holding two days of workshops, for mothers and clergy on the first day and for youth on the second. The mothers and clergy will be asking:"What can we say to our youth that will call them home from threats and from immorality?"'
The idea for the workshops was born when Rev Jilani and Muslim youth leader Zuhura Juma, both from Mombasa, attended a 'training of trainers' for religious leaders in Nairobi, in November 2012. This training was the first step in a project 'to transfer the methodologies depicted in the film An African Answer across Kenya'.  The 16 month project, which is supported by the United States Institute of Peace and IofC UK, is being co-ordinated by Dr Alan Channer of FLTfilms and Joseph Karanja and Steve Kimaru of IofC Kenya. The project trainers are the protagonists of An African Answer, internationally acclaimed peacemakers Imam Muhammad Ashafa and Pastor James Wuye, from Nigeria.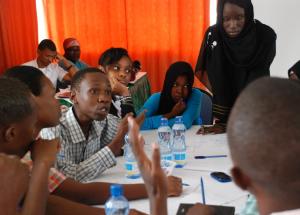 Jilani and Juma organized the workshops with a team from the Mombasa-based Eleka Trust, which has a Christian membership, and the Mombasa-based Minda Trust, which has a Muslim membership. They timed their workshops so that Pastor Wuye and Imam Ashafa could attend in person and play a mentoring role.
Jilani and Juma put into practice a high-risk trust-building methodology. During the first workshop, they split the group along both religious and gender lines - and asked the Muslim men, Muslim women, Christian men and Christian women (separately) what they like and dislike about the other. A high-ranking representative of the Hindu Council of Kenya added a welcome, additional ingredient!
The groups then came back into plenary, to evaluate the 'likes and dislikes'. An array of issues surfaced, with insights on marriage, divorce, dress code, fear, expectations, freedom, forms of worship, the value of family life, inheritance and busyness. As the group addressed these, a new-found sense of unity emerged - and a readiness to look together at the challenges which both Muslim and Christian youth in Mombasa face.
Mrs Zebeida Suleiman, co-founder with Revered Jilani of the Coast Interfaith Council of Clergy, remarked that to hear the likes and dislikes shared in the whole group was one of the most striking things she had experienced in inter-faith work.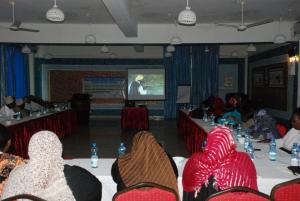 The workshop for youth began with a screening of The Imam and the Pastor and a discussion of what it is to be a 'role model'.
Imam Ashafa shared some lines of African wisdom with the 40 attendees: 'If you cannot be teachable, having a teacher won't help you. If you cannot be mentorable, having a future won't help you.'
Discussion moved on to the reasons for inter-faith conflict and how youth can contribute to inter-faith understanding and peaceful coexistence. The young people were quick to identify 'youths in substance abuse, people living with HIV/AIDS, youths in business and youths in leadership' as areas where they could focus their influence as 'ambassadors of change'. One practical proposal was for a programme to clean up the city of Mombasa from litter and garbage – an idea which moved ahead soon after the workshop had ended.
For Zuhura Juma, the events were a great success. 'I have worked with many organizations in conflict issues and peace building, within my faith and my society, but never as inter-faith,' she concluded. 'I am very interested indeed to continue working in an interfaith perspective. I would love if this initiative can go on, for it can do a lot to our youth and our community.'