Initiatives of Change and Saint Paul University present
AFRICAN SOLUTION
- an important answer -
April 9, 2011 from 4.00 pm to 7.30 pm
Two 40 minutes documentaries on healing and reconciliation in Nigeria & Kenya, and the possibility they bring to the world, followed by a panel discussion.
The Imam and The Pastor
FLTflims - For the Love of Tomorrow, Narrator - Rageh Omaar, Assistant Producer – Imad Karam, Producer/Director - Alan Channer http:/www.fltfilms.org.uk
The Imam and the Pastor is an award-winning film that depicts the astonishing reconciliation between Imam Muhammad Ashafa and Pastor James Wuye, and the peace-making initiatives which have flowed from it. The film shows that it is possible for the perpetrators of inter-religious violence to become instigators of peace. It is both a story of forgiveness and a case study of grass-root initiatives to rebuild communities torn apart by conflict.
and the first screening in Ottawa of
An African Answer
FLTflims - Narrator
 - Kathleen Openda-Mvati, Producer
 - Imad Karam,
 Director -
 Alan Channer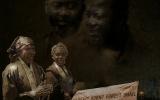 A sequel to The Imam and The Pastor, An African Answer documents a remarkable mediation process facilitated by Imam Ashafa and Pastor Wuye in Kenya following election violence in 2007.
"This is a very important film. We need to learn from Imam Ashafa and Pastor James and multiply in a thousand places their experiences of healing and reconciliation". Kofi Annan, former Secretary-General of the United Nations
Those participating in the event include representatives of the Nigerian and Kenyan High Commissions and the department of Foreign Affairs and International Trade.
Traditional African refreshments will be served following the film screening!
Download the flyer (PDF)
Download the press release (PDF)