Tackling a great menace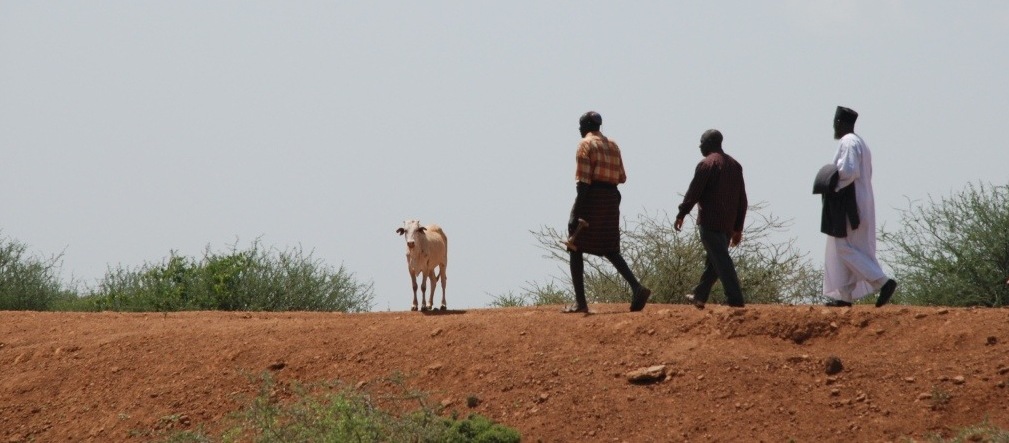 Cattle-rustling is described by Kenya's national press as 'a great menace'. In February this year, three police officers were killed by cattle rustlers in Baringo County. Last November, forty police went on a mission to retrieve stolen cattle in Samburu County. They tracked the armed raiders into a remote valley, where they were ambushed. All forty police officers were shot dead.
Cattle-rustling is a symptom of a complex web of inter-related problems that affect the semi-arid regions of Kenya, which cover more than two thirds of the country's surface area. Drought, population pressure, land degradation and easy access to automatic weapons are an explosive combination. Pastoralist ways of life are under threat and a vicious circle is in force: insecurity and conflict hamper development, yet development is key to resolving insecurity and conflict.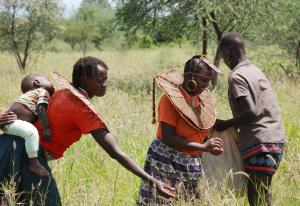 A significant breakthrough took place in Baringo, in April 2012, during a two day meeting facilitated by the 'Land, Lives, Peace' programme of Initiatives of Change International. (Click here for report of this event) Community leaders from the Pokot, Ilchamus and Tugen – the three largest ethnic groups in Baringo – resolved to co-operate and to form an inter-ethnic 'peace committee'.
Also at the meeting was Paul Parsalaach, Operations Manager of the Baringo-based 'Rehabilitation of Arid Environments (RAE) Trust'. Parsalaach explained how some of the RAE Trust's land restoration projects, which have the potential to improve the livelihoods of pastoralist communities dramatically, were failing because of inter-ethnic conflict.
The breakthrough was captured by IofC's FLTfilms in a short film entitled 'Transforming Land, Transforming Lives in Baringo County, Kenya'. The film can be viewed on the website of the United Nations Convention to Combat Desertification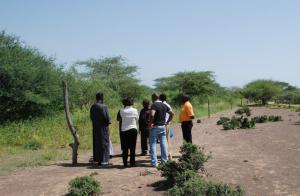 With a new-found volition to work together for peace, nine community leaders from Baringo participated in a training of grass-roots practitioners, in November 2012, given by internationally renowned peacemakers Pastor James Wuye and Imam Muhammad Ashafa. This training is part of a project to 'transfer the peace-building methodologies depicted in the film An African Answer'. It is supported by the United States Institute of Peace and IofC UK and implemented by FLTfilms and IofC Kenya.
During the workshop the Baringo team came up with a shared vision and an action plan to end cattle-rustling in their county. (Click here to read this story)
The team then won national attention. They were selected by the Independent Electoral and Boundaries Commission of Kenya to serve as independent observers of Kenya's national elections in March. They received training for this from a joint UNDP/EU/Japanese programme supporting the electoral process.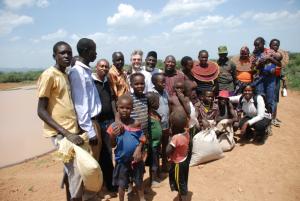 With increased confidence, the team brought together retired chiefs from the three communities to look at how they might seal an end to conflict between them. The team are looking now at how to bring healing and reconciliation. They are also looking at how to improve the livelihoods of their communities – livelihoods which revolve around key resources of water and grass.
Once again 'Initiatives for Land, Lives, Peace' (ILLP) served as a key connector, linking the Baringo team to Excellent Development, a UK and Kenya-based charity which trains communities to build sand dams. Sand dams are reinforced concrete walls installed in seasonal riverbeds - of which there are many in Baringo. The technique creates a higher riverbed, which then acts like a sponge to store water through the dry season.
Zephania Lekachuma, the Area Chief of Marigat town, from the Ilchamus community, together with Mary Kuket, a Pokot community leader, attended a training in sand dam construction from May 12-17 in southeastern Kenya.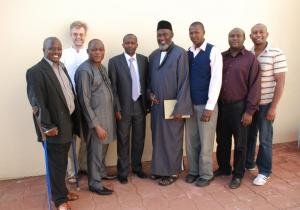 Eager to take the whole move to resolve cattle-rustling up another gear, the Baringo team hosted a visit by Imam Muhammad Ashafa and Pastor James Wuye from May 17-20, together with the USIP/IofC project co-ordination team Dr Alan Channer, Joseph Karanja and Steve Kimaru.
They were received by the Deputy Governor of Baringo County, Mathew Tuitoek, in Kabarnet Town Hall for a one hour meeting. 'Without peace,' stressed Deputy Governor Tuitoek, 'we cannot have development in this county'.
The visitors were taken by Maryann Lekisemon, founder of the local NGO 'Community Centre for Peace and Development', to a community of Ilchamus IDPs ('Internally Displaced Persons'), who fled from their homes after their cattle were stolen by Pokot raiders. The group sat on the dry ground, under a tall acacia tree. Imam Ashafa and Pastor Wuye shared their experiences of enmity and forgiveness. Pastor Wuye showed where his arm had been cut off by Imam Ashafa's enemy militia. 'Our prayer is that you will return home,' he said. 'Peace can start with your forgiveness,' urged Imam Ashafa. The meeting ended with a traditional chanted prayer.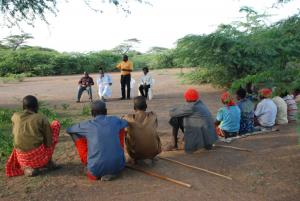 The climax of the visit to Baringo was a journey on very rough roads to the homestead of Joseph Kwopin, and a joint RAE Trust / ILLP 'Land-Peace' project in East Pokot.
The Pokot are renowned for being fiercely independent and the men in most households are armed. Joseph Kwopin used to carry an AK47 and travel long distances with his cattle in search of dry season grazing. On one occasion, 42 of his cows were stolen. Today, Kwopin manages over 30 acres of pasture. He protects his fields with thorn fencing, sows indigenous grass seed in fields that were once degraded, fattens livestock, maintains a fodder bank in the dry season and harvests and sells grass seed to other farmers.
Kwopin described his satisfaction that the grass he manages has saved his livestock from drought and shared his relief that he does not to have to search for grazing far away, in areas belonging to other ethnic groups.
Kwopin also has suffered from recent insecurity. Clashes between the Tugens and Pokots in October 2012 led to the closure of all livestock auctions in Baringo just at the point when he wanted to sell his goats to buy grass seed to extend his pasture.
According to Dr Elizabeth Meyerhoff Roberts, co-director of the RAE Trust and a Pokot speaker, the techniques to manage pasture and sustain pastoralist ways of life are available. 'It is the people factor that is often the most critical for sustainability,' she said.
For Joseph Kwopin, a pastoralist deep in the Kenyan bush, and Nigerian peace-makers Imam Ashafa and Pastor Wuye, the meeting was mutually rewarding. Pastor Wuye shared how recent clashes between Fulani herdsmen and cultivators in his home state of Kaduna had caused fatalities – and how fascinated the Nigerian herdsmen and cultivators would be to see what Kwopin is doing. Imam Ashafa told Kwopin that he should continue to share his experience not only with other Pokots but with the neighbouring communities; that he should see himself as an example, not only to Kenya and to Africa, but to the world.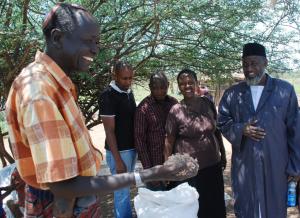 'Today is a great encouragement,' said Kwopin. 'Today I am happy.'
On their final day in Baringo, Pastor Wuye and Imam Ashafa met with the team as they planned the next steps of their bid to end cattle-rustling in the county. Paul Keitany, Chair of the local NGO 'Together Development Programme Kenya, said, in his vote of thanks to the visitors: 'I would like to thank Initiatives of Change and For the Love of Tomorrow [FLTfilms]. You have really helped us. We have An African Answer, we have a Chief who knows about sand dams, we are working with the RAE Trust on grass, we have visitors all the way from Nigeria, UK and Nairobi.... Now we are moving. God is helping us and we pray we are going to succeed.'