Peace and reconciliation in Kenya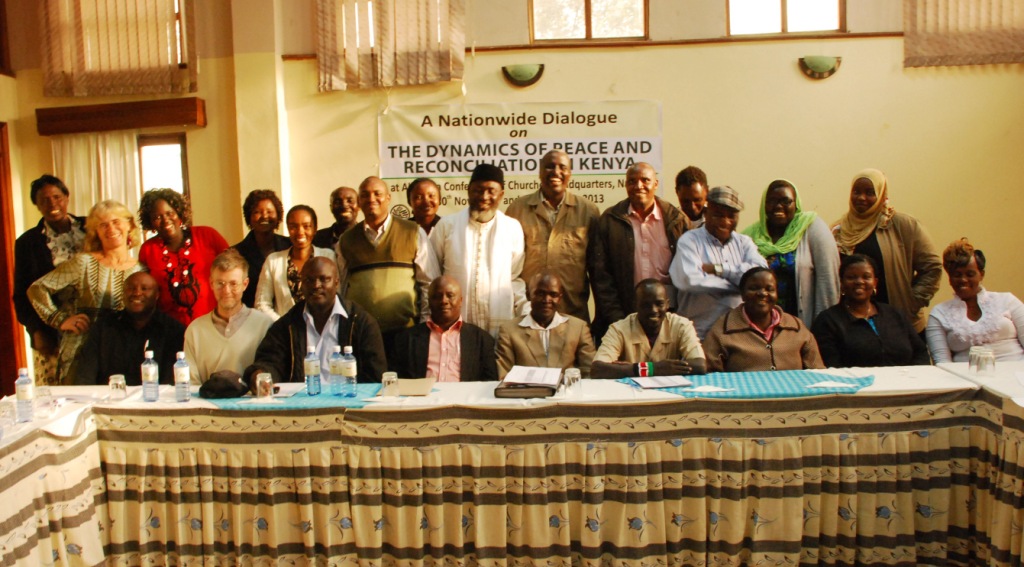 They came to Nairobi from the desert reaches bordering Somalia, the port city of Mombasa, the drylands of Baringo and the political hotbed of Eldoret. The All Africa Conference of Churches provided the venue without charge. The theme of the gathering was 'The dynamics of peace and reconciliation in Kenya'. It was facilitated by internationally acclaimed peacemakers from Nigeria, Imam Dr Muhammad Ashafa and Pastor Dr James Wuye.
12 December 2013 marks 50 years of Kenyan independence. The gathering started out by looking at the past.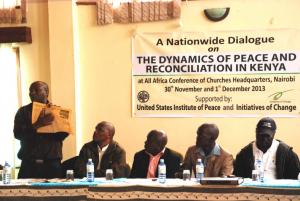 Joseph Karanja, from Initiatives of Change, read extracts from original articles published on the eve independence:
'A Prophet voice is heard from Africa,' highlighted the East Africa Standard of 11 December 1963. 'It is the voice of Jomo Kenyatta, Prime Minister of Kenya….
'The Prime Minister´s speech to the European farmers at Nakuru during August is now part of Kenya´s history. It created a wave of confidence and respect which has gone beyond the bounds of this country….
"We are all human beings," he said: "We all make mistakes. But we can all forgive. That is what we need to learn in Kenya. Where I have harmed you, I ask forgiveness. We must put the past behind us."'
Joseph Karanja also cited an article in the East African Standard of 20 December 1963, entitled 'Freedom hailed as Kenya flag flies in India':
'Mr Rajmohan Gandhi, grandson of India's great leader, hailed the Independence of Kenya at the ceremony. He said: "We expect Kenya to be in the lead in the fight for the political liberation of every last country that remains slave in Africa today."'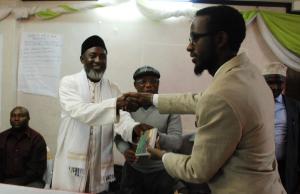 Dr Alan Channer, Director of IofC's For the Love of Tomorrow Films, went on to introduce two film clips comparing the process of independence in Congo and Kenya . One was archive footage in a film about UN Secretary General Dag Hammarskjold by Swedish film-makers Stig Holmqvist and Göran Gunér.
'The independence of the Congo marks the close of the brilliant work which King Leopold the Second undertook with relentless courage,' began King Baudouin of Belgium at the independence ceremony in Kinshasa.
Congo's newly elected Prime Minister, Patrice Lumumba, then followed him onto the podium:
'We've had to suffer sarcasms and insults, and beatings morning, noon and night…. Who can forget the executions, the prisons in which they threw those who weren't willing to submit to injustice and exploitation?'
The film features an interview with CIA agent Larry Devlin, responsible for the agency in Congo at that time: 'There was the famous speech that Lumumba gave, which reversed the official position of the Belgian government – and they decided he was bad.' Lumumba was assassinated, following a Western-backed coup. Congo is yet to recover.
A clip was then screened from the short documentary, 'Is he my brother?' which Channer made with Kenyan cinematographer Sir Mohinder Dhillon.
The film features the British settler Colonel Alan Knight, commandant of the Athi River detention camp for Mau Mau insurgents.  At the peak of the 'emergency' in Kenya, British colonial authorities were executing 100 Mau Mau detainees every week. Knight used to read out the names of those who had been hanged on the camp intercom. But his Christian faith and the ideas of Initiatives of Change (then known as Moral Re-Armament) impelled him to change heart:
'I decided to apologise for the arrogance and the selfish way I had lived as a white man all those years in their country…. They gathered round me, they shook me by the hand – men who wouldn't even speak to me before…. I was in my officer's uniform and they were in their prisoner's uniform….. And one man said, "God will not favour the white man, God will not favour the black man." And I've believed in miracles ever since that moment.'
'Is he my brother?' goes on to depict the friendship between Alan Knight and senior Mau Mau figure Stanley Kinga – and Kinga's initiative, encouraged by Jomo Kenyatta, to dub the IofC film 'Freedom' into Kiswahili and screen it across Kenya before independence to help prepare people for the elections.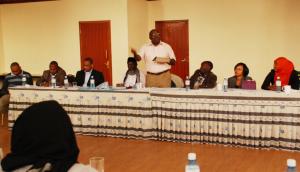 Reflecting on the work of peace and reconciliation today, Channer said it feels that Kenyans are 'sitting on the shoulders of giants'.
Imam Dr Muhammad Ashafa and Pastor Dr James Wuye, facilitated the ensuing discussion. Imam Ashafa highlighted Alan Knight's 'submission to God's command'. He then challenged everyone present: 'Are you willing to say to God, "Please help me to do anything I can to make things change for good in the situation around me?"
John Mwangi, of World Vision Kenya, spoke of the continuing need 'to tap into the power of communities to give and receive apology'.
Rev Jane Jilani, from Mombasa, expressed her hope that Kenya's faith communities would continue to be known for their positive contribution to Kenyan society.
Isaack Otieno, an advisor to the Ministry of Justice, paid tribute to the influence of Alan Knight in his own life, describing him as 'a mentor and the embodiment of absolute moral standards'. In the run-up to the last elections, Otieno was responsible for 70 weekly shows on 10 television and radio stations, helping to prepare the Kenya electorate for free, fair, non-violent elections. He expressed gratitude to Joseph Karanja, of IofC's Clean Election Campaign, for his expert advice and help in that process.
Paul Keitany, a civil society leader working to build trust between pastoralist communities in Baringo County, said he was encouraged by the fellowship 'between Karanja, Otieno and Channer over so many years' and that he was moved to now be part of Initiatives of Change.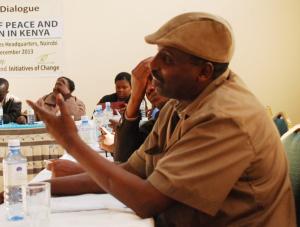 Abdi Yusuf Diriye, originally from Somalia, described himself as 'a hopeless survivor'. Yet, he said, this gathering was giving him hope.
The meeting was closed by James Magaria, CEO of Karen Hospital, founder of Daystar University and an initiator of Kenya's new Constitution.
Magaria expressed gratitude that Kenya has had 'a faith-led constitutional review process.'
 'At times like this', he said, 'I must speak about what is timeless and cross-cultural. … I recently received an email from an Indian friend, in which he said "Only love is real". I reflected on that and realized it is true. God is Love and Love never fails.'
The following day focused on sustaining the work of the project teams in Baringo, Eldoret and Mombasa.
One of the participants, Sheikh Hassan Omari, Director of Education with the Supreme Council of Kenyan Muslims, invited Imam Ashafa and Pastor Wuye to finish their visit to Kenya by addressing a meeting of imams in the Somali-dominated Nairobi suburb of Eastleigh.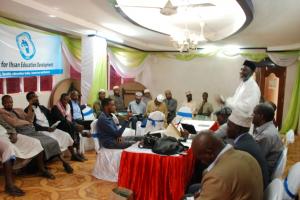 Imam Ashafa offered a reflection on 'the embodiment of a good Muslim' – and how Muslims might wish to be regarded by the non-Muslims whom they live amongst. Sheikh Hassan drew everyone's attention to Pastor James artificial hand. 'You see it is plastic. The real one was cut by Muslims who were trying to kill him. Yet he is here with us preaching peace.'
A generous lunch was offered in a Somali restaurant before Imam Ashafa and Pastor Wuye left for the airport.
We would like to express gratitude to all those who helped make these events possible: the United States Institute of Peace, IofC bodies in Kenya, UK and Sweden and the All Africa Conference of Churches.
Breaking News - Sheikh Hassan Omari read the Muslim prayers for the 50th Jamhuri Day celebrations at the national stadium in the presence of President Uhuru Kenyatta and heads of state from around the world.
Alan Channer, Joseph Karanja, Steve Kimaru, Gunilla Hamne