Police, youth and government rally behind women's initiative
'No amount of police, no amount of weapons for the police and no amount of public meetings will create peace', said Mombasa Police Commandant Daoud Mohammed. 'Peace must come from within our hearts. The way forward is the peace-building process I see here.'
'Youth are not terrorists, thieves and drug addicts', continued the Mombasa County Minster for Youth, Gender and Sport, Mohammed Abbas. 'I am working with youth in Mombasa, based on their needs. We want to develop home-grown talent and give youth here the opportunities that will give them a life. I am happy to see the work of NGOs like yours.'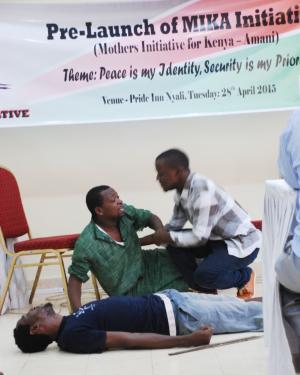 Daoud Mohammed and Mohammed Abbas were speaking on 28 April at the pre-launch of the MIKA Initiative at the Pride Inn Hotel, in Mombasa, Kenya. MIKA stands for 'Mothers Initiative in Kenya for Amani'. Its formation was inspired by acclaimed Nigerian peacemakers Imam Dr Muhammad Ashafa and Pastor Dr James Wuye.
'Radicalization is expanding', Commandant Mohammed continued. 'It is taking root because of social media. Government cannot control social media. The way forward is to identify modalities of talking to the people. Know where your children are. Bring the radical youth back home and tell them this is not the way forward. Talk to the youth in the mosques with the Holy Koran. Listen to your neighbour. Counsel each other. Peace is a long journey. It takes time, it takes money, but it is the only way. We will work day and night with organizations like this.'
Halima Mohamed, a Muslim youth activist and core member of MIKA, chaired the pre-launch meeting. She introduced Dr Alan Channer, Director of For the Love of Tomorrow Films. Channer traced the origins of MIKA to a United States of Peace/Initiatives of Change project. The purpose of this project, which he had directed,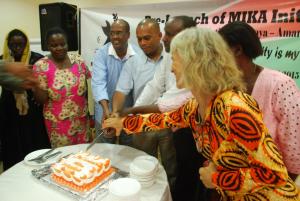 was to amplify the peace-building methodologies depicted in the film An African Answer (FLTfilms, 2010) - and it brought Imam Ashafa and Pastor Wuye to Kenya to train grass-roots peace practitioners. Click here for more information >>
Among the practitioners present at the first training were Muslim youth activist Zuhura Juma and church minister Rev Jane Jilani. Juma and Jilani forged an action plan that received further support from the USIP/IofC project.
Both Jilani and Juma spoke at the pre-launch meeting, describing their vision that the Christian-based ELEKA Trust and the Muslim-based MINDA Trust should join forces to form MIKA.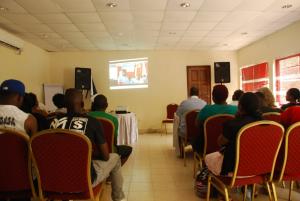 A short video to create awareness of the MIKA Initiative was screened. It was produced by Alan Channer and Owen Lean, and narrated by Mbindiyo Kimanthi. Watch the video here >>
The MIKA team thanked Initiatives of Change for its facilitating role and Joseph Karanja, a barrister and volunteer with IofC, was asked to say more about what IofC stands for.
Karanja spoke from his own experience, referencing Commandant Mohammed's emphasis that peace starts in the heart. He described how he began to listen to, and act on, the voice of conscience when he was at school - and how doing that can be the guiding principle of life.
A senior board member from the MINDA Trust, Mr Nagib Shamsan, also spoke. He emphasised the importance of young people having a say in the budgets of mosques and churches as a vital aspect of inclusion in decision-making.
The pre-launch meeting was interspersed with potent skits by a youth drama group, depicting the forces tempting youth to join militias, and helping to break down stereotypes.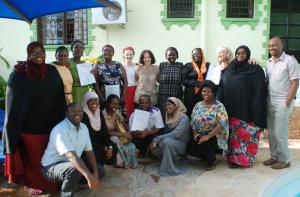 Many in the audience were Muslim and Christian women from MIKA's wider network. Several of these had participated, the day before, in a trauma healing workshop for 15 counsellors facilitated by the Founder and Director of the Peaceful Heart Network, Gunilla Hamne. One of the participants wrote afterwards: 'Very insightful training. I will go out and use it for myself and family, then friends and finally organizations and community.Thank you so much for pioneering this in Mombasa'.
In his closing remarks, Commandant Mohammed thanked all the organizers and Dr Alan Channer and Gunilla Hamne for their dedication and fresh approaches. He noted the critical importance of trauma healing to tackle demoralization, hopelessness and psychological wounds.
Events closed with the ceremonial cutting and sharing of a large chocolate cake.
Alan Channer, Joseph Karanja, Steve Kimaru, Gunilla Hamne